September 8th, 2012
Real World Media Warns Against Domain Renewal Group Scam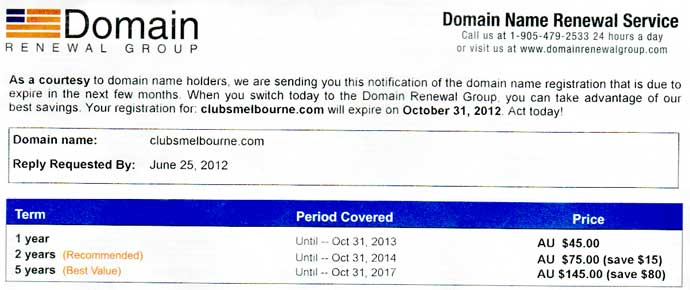 A little while ago I received a snail mail regarding a domain name that I had registered (one of about 80 – I cant help myself when I see a good domain name!). The mail informed me that it was time to re-register my domain name. It was  very official looking and well presented and contained quite a lot of information about me, my business and the domain name in question.
And yet it was A COMPLETE SCAM…
Often  as a small business you register your domain name (or your web design company does it for you) and it may be 2 years down the track and you can t remember who the domain reigistrar was.
This leaves you susceptible to the type of domain renewal scam that I discuss in this post.
In my case, the company in question "domain renewal group" had in fact sent me what looked like an invoice (as if I was already using their services, or masquerading as a governing body for domain registration etc).
It was however a request to transfer the domain from my current registrar to them.
The scam lies in the fact that if you fill out the form and return it to the company, you are giving authrority to them to become the registrar of your domain name. This means that you still own the domain name, but it is now being managed by this company. The domain will move away from your current registrar (which might be a company like, AHQ, cheap domains, crazy domains, godaddy, etc all good legit companies) and will transfer to the Domain renewal Group company.
Where you were paying a nominal amount for your domain name you will now be paying   the new rip off fee. Where I am currently paying $7.00 per year I would now be paying $45.00 per year!!
Here are some comparison prices for domain names:
.com   – $7.00
.com.au – $12.00
.net – $7.00
.net.au – $8.00
What steps can you take to avoid being scammed.
If you are unsure where your domain was registered, simply go to www.whoismydomain.com and type in your domain name.
You will get all the infomation you need in regards to who is the registrar, who is the owner and when renewal is due. From this info you can contact the legitimate company and take the necessary steps to renew your domain.
A good tip is to set a reminder in your calendar for one or two years ahead at renewal time. Put in the date due and also put in your own secret reminders for usernames and passwords (make sure that no one else can work these out – like: "same as my hotmail password" etc). So now when renewal comes around and you have completely forgotton all the important info you will be pleasantly reminded when needed!
Hope that helps!
Words used in this blog post:
Registrar 
A domain name registrar is an organization or commercial entity that manages the reservation of Internet domain names. A domain name registrar must be accredited by a generic top-level domain (gTLD) registry and/or a country code top-level domain (ccTLD) registry. The management is done in accordance with the guidelines of the designated domain name registries and to offer such services to the public.
Tags: domain registration, registrar, scams, url